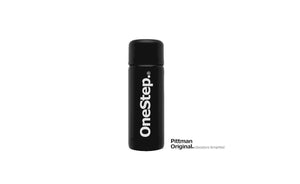 There's plenty of ways to clean headlights, but they all degrade or strip away the lense's protective UV layer, this was until the development of OneStep ALR®, a target specific headlight restorer unique in that it works on contact and is 100% non-abrasive making it the only way to quickly and safely remove oxidation without causing permanent damage to the lens itself. Designed with built-in conditioners there is nothing that restores clarity faster, safer or more efficiently on today's market.  *Also excellent in maintenance and restoration of Motorcycle, Golf Cart, ATV, Marine and Aerospace lenses.
100% Non-abrasive
Wipes away oxidation on contact
No tools or sanding required
Doesn't harm surrounding paint
Built-in conditioner
Know the facts: Oxidation is a naturally occurring build up of loose oxygen electrons also known as free radicals that are attracted to some surfaces. These electrons have a natural negative charge and are drawn to your headlights before thickening due to the current passing through the surface. These electrons will build up on the surface until no light can come through. In the process they create an absorbent surface layer that will trap additional contaminents and darken with ultra violet light. These additional contaminants can degrade the surface's protective layer and turn the oxygenated surface from white to yellow to brown, environment and maintenance has a large part to do with how fast this will happen. This oxygenated surface solidifies into a hard outer coating. The low tech way to solve this problem has always been to use an abrasive chemical or method to wear the oxidized surface down, the problem with that approach is that it causes more harm than the oxidation itself. These products and methods only serve to exasperate the condition leaving the surface subject to future and more easily established build-ups and permanent discoloration. OneStep ALR® remains as the only target specific method that only attacks the oxidation while leaving all other surface components intact. So remember, oxidation is not damage. Remove it safely and easily with OneStep ALR®
Pro-Tips on "maintaining clarity"

Park your vehicle in a cool, dry place away from direct sunlight or consider buying a protective cover for your vehicle.  

Focus on your headlights when you wash the rest of the car and use a microfiber cloth for drying. 

Never use abrasives such as sandpaper, toothpaste or baking soda as they will strip away the UV layer causing permanent damage & discoloration.
Choosing a selection results in a full page refresh.
Press the space key then arrow keys to make a selection.